Rebate & Channel Manager
Proactively design and manage your pricing and rebate programs across channels, all in one place.
Increase revenue with strategically aligned rebate and channel programs
Reduce risk of overpayments or underpayments by tying to actual performance
Strengthen channel and sales relationships with collaborative portals and dashboards
Simplify the execution of your complex agreements with smarter rebate management
Gain confidence that your rebate and channel programs are growing your topline. Automate your entire rebate and channel process from deal creation to accruals, and payment generation to end-to-end reporting. You and your teams can calculate and analyze rebates, review margin, identify scenarios, and modify your programs to maximize effectiveness.
Manage and automate your rebates, payments, accruals, and deductions
Rebate & Channel Manager provides auditable program management to grow revenue and margins across all your channels. Gain confidence that the rebate and incentive channel programs you design are growing your business.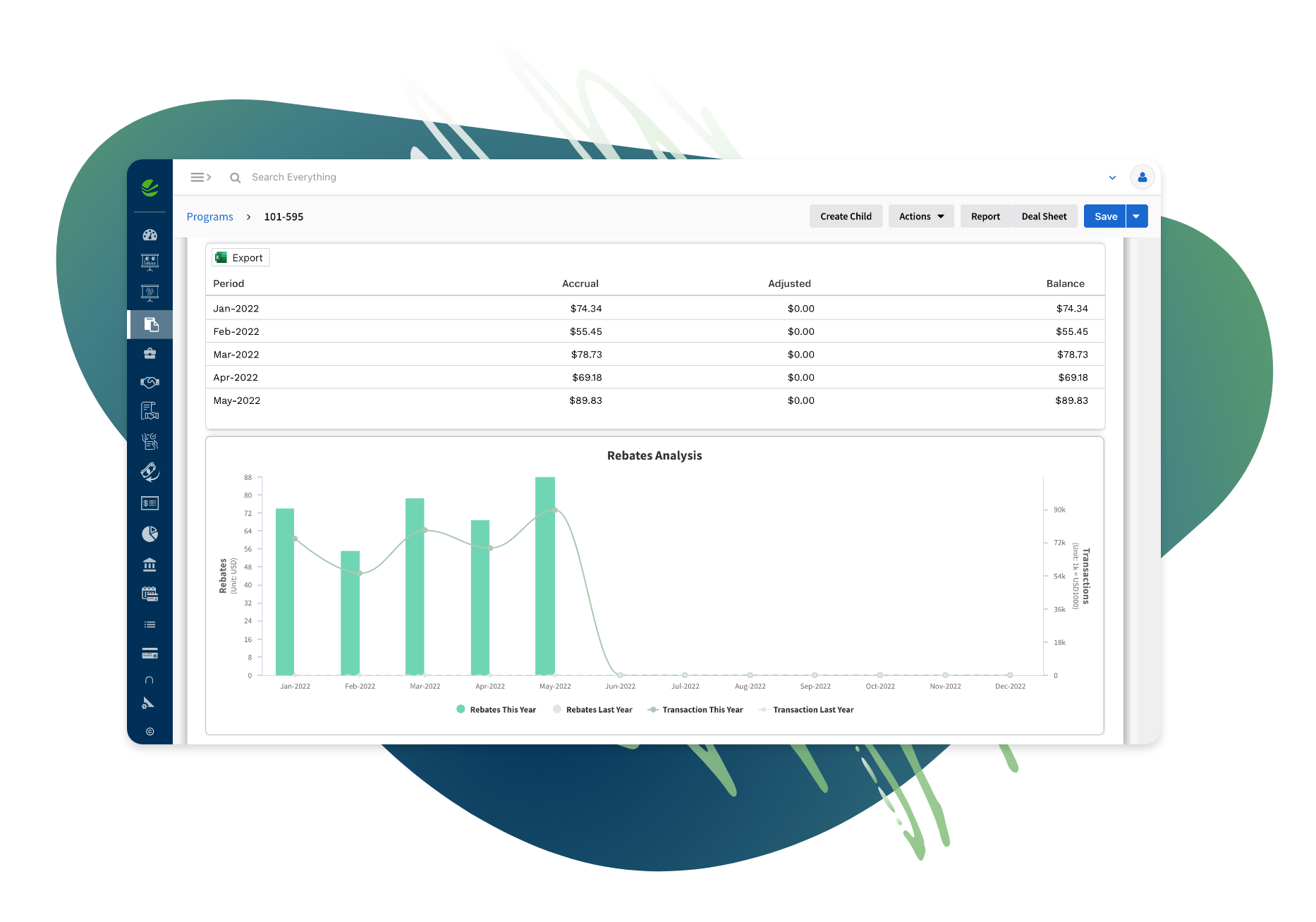 Success with Rebate & Channel Manager
We've helped our customers drive significant revenue impacts like
3.0%
Prevented rebate overpayment
1.8%
Increased channel satisfaction
1.2%
Avoided rebate penalties
How Does Rebate & Channel Manager Help Your Team?
Related Thoughts/ Resources
FAQ
Vendavo offers comprehensive, integrated solutions for manufacturers and distributors, covering all aspects of price, quote, rebate, and profitability management.
From setting initial global and list prices, to efficiently managing on-invoice prices and off-invoice incentives like rebates, Vendavo is a leader with global enterprises. Those capabilities were further strengthened by the acquisition of Market Medium.
With Vendavo as your sole-source vendor, you gain a partner that addresses all your commercial excellence needs and requirements. Vendavo enables you to leverage automation throughout the entire process, streamlining deal creation, accruals, deductions, payment generation, reporting, and collaboration.
Unlike our competitors, who rely on partnerships to achieve similar functionality, we provide a unified solution for your pricing ecosystem.
While not extensive, we often see the following:
Rebates either directly to customer or to resellers
Pass thru rebates
Chargebacks
Ship and debits
Proof of sales
Contractual
Fees and Commission
Manufacturers rely on multiple vendors and suppliers to stock their products and sell them to consumers, monitoring each segment of it requires powerful and lightweight software to define a partner experience to drive multiple orders.
Define agreements that help boost sales and help preserve margins
Tracking promotional spend across channels and measure promotion effectiveness
Streamline deductions processing and prevent invalid deductions
The sense of rebates is shifting from marketing and pricing tactics to engagement and understanding strategy. It is essential to define distributor rebate agreements based on volume, value, growth of purchases, or sales of products from multiple locations.
Capture various types of rebates from your vendors
Identify new product introductions and rebates
Meet margin guidelines on sales by accurately calculating dead net costs
Pass-through promotions without revenue leakage to customers
Absolutely, and there are many benefits of Rebate and Channel Manager with accounts payable teams who can now:
Issue AP Payments – incorporate high-volume rebates and agreement stipulations
Manage deductions – understand the reason and validity of deductions, increase recovery rate, decrease time to solve disputes
Issue Credit Memos – notes attached to every invoice to keep discrepancies to a minimum
Schedule Automatic Payments – aligned with agreements, process hundreds of payments with one-click scheduling
Manage exceptions – define approval rules for exceptions, amounts, customers, account status, paid terms, and other custom attributes
Eliminate overpayments and dramatically reduce the time for payment reconciliations.
Implement shorter deduction resolution cycles to reduce the cost per transaction and shorten Days Deduction Outstanding (DDO).